Dale Cregan co-accused's father 'was kneecapped'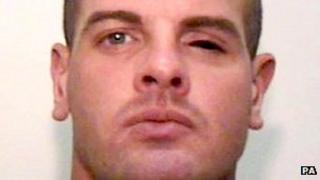 The father of a co-accused of Dale Cregan was shot in the kneecap by a gunman 10 years ago, a court heard.
It is alleged that Cregan and four others acted on the orders of Leon Atkinson, 35, to shoot a rival family in a pub in Droylsden, Manchester.
The shooting led to the death of Mark Short, 23, last May. Three months later, the victim's father David, 46, was shot at home at his home in Clayton
Mr Atkinson denies murdering Mr Short and attempted murder of three others.
The jury at Preston Crown Court heard a background of "history" between the Short and Atkinson families, which began in 2001.
Prosecutor Nicholas Clarke QC reminded Mr Atkinson that his father, Francis, had his left kneecap "blown across" a pub called The Victoria in September 2003.
But Mr Atkinson denied his father was in a wheelchair for "a long time" and said he was unaware that he had needed a replacement knee.
The defendant said a truce between the Shorts and Atkinsons was called four years before the Cotton Tree shooting with a handshake between him and David Short in Manchester's Arndale Centre.
"We just said there was no use in fighting," he said.
'Drunken mother'
Cregan has previously admitted killing PCs Fiona Bone, 32, and Nicola Hughes, 23, in a gun and grenade attack while he was on the run for allegedly murdering David and Mark Short.
Cregan, 29, denies murder, attempted murder and causing an explosion.
Luke Livesey, 27, from Hattersley, Damian Gorman, 38, from Glossop, Ryan Hadfield, 28, from Droylsden, and Matthew James, 33, from Clayton, also deny murdering Mark Short and the attempted murders of three others in the pub at the time.
Accused of the murder of David Short along with Cregan are Francis Dixon, 37, from Stalybridge, Anthony Wilkinson, 38, from Manchester, and Jermaine Ward, 24.
They also deny attempting to murder Sharon Hark on the same day, and a single charge of causing an explosion.
Mr Wilkinson is also charged with possession of a firearm with intent to endanger life and Mohammed Ali, 32, from Chadderton, is accused of assisting an offender. They deny the charges.
Only Cregan was charged with the murder of the two police officers.
The trial continues.