Mugger stabs accomplice in Oldham park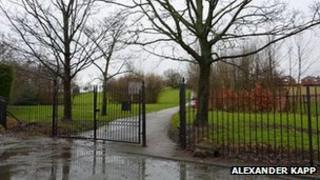 Three men who stole mobile phones from children in a park - before getting involved in a fight in which one man stabbed another - are being sought by police.
One man held a knife to a 12-year-old boy's throat during the incident in Copster Park, Oldham, on Saturday.
Police said one of the other men had told him to calm down and he had stabbed him in the shoulder.
Det Con Sam Blackwood said the incident was "unbelievable".
The three men are described as white, in their late teens or early 20s and of skinny build.
Mr Blackwood said the attack had left the children "traumatised".
"The aggression this one man showed against a group of defenceless children for their phones is shocking," he said.
"What is more unbelievable is that it seems he turned on one of his own when he was told to stop using excessive force.
"I would ask anyone who saw the group, either committing the crime or running away, to contact police."