Bury v Oldham: Hundreds locked out of derby match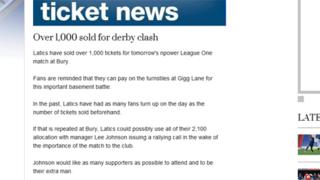 Hundreds of Oldham Athletic football fans were locked out of their team's away match at Bury due to safety fears because the ground was too full.
Fans had been told they could still pay on the gate for the crucial League One relegation match.
Claiming the Oldham section of the ground was full, police and club officials stopped more fans entering.
Oldham fans have posted complaints on Twitter with estimates of fans being turned away ranging from 200 to 1,000.
The club's website had encouraged fans without tickets to turn up on the day, saying: "In the past Latics have had as many fans turn up on the day as the number of tickets sold beforehand."
Club manager Lee Johnson had said he wanted as many fans as possible to turn up.
One Oldham fan who phoned BBC Radio Manchester said between 500 to 1,000 fans had been turned away and had left the ground.
"Oldham said we didn't need to buy tickets ahead of the game," he added.
Struggling Bury, who are in financial trouble and need £1m of investment to survive, were relegated to League Two after losing the match 1-0.