Manchester soldier David McIntyre terrified over US extradition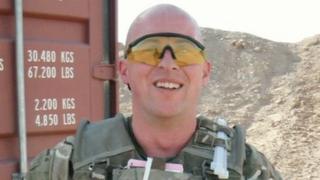 A Royal Military Police Territorial Army sergeant facing extradition to the US over fraud charges said he would rather kill himself than leave the UK.
David McIntyre, 41, from Hyde, Greater Manchester is accused of overcharging for security services in Baghdad, Iraq.
Mr McIntyre, who denies the charges, says he has post traumatic stress. The Ministry of Defence (MoD) has not commented.
The Home Office said his extradition is on hold while his case was considered.
Mr McIntyre faces eight counts of fraud relating to security services provided during his time running Quantum Risk in Baghdad, between December 2008 and July 2009.
'Lamb to the slaughter'
Mr McIntyre said he was serving at Camp Bastion in Afghanistan when he was brought home to the UK over the $100,000 fraud claims.
He said he was "terrified" over whether Home Secretary Teresa May will approve his extradition because if he is convicted he faces up to 20 years in a federal jail.
The former sergeant with the Queen's Lancashire Regiment "vehemently disputes" the charges but said he was "fearful" of being extradited.
He said: "I would rather end my life than go there."
In March, the Court of Appeal rejected his appeal against extradition and he was refused leave to appeal to the Supreme Court.
He said he has been diagnosed with untreated Post Traumatic Stress Disorder and said the MoD had offered him little support.
While he said individuals had been supportive with a petition set up to save him from extradition he said the MoD had left him "like a lamb to the slaughter".
Janice Sharp, the mother of computer hacker Gary McKinnon who was spared from being extradited to the US, is backing his Mr McIntyre's fight.
She won a ten-year battle to save her son who has Asperger's syndrome from being extradited.
'Further representations'
"Justice has been done for Gary and he is very fortunate," she said.
"It is terrifying to think you can be sent there without any evidence."
She said Mr McIntyre should go on trial in the UK where "we are innocent until proven guilty".
"The judicial system is so out of proportion in America and the punishment is massive - he could lose his job, family and even life," she added.
In a statement, the Home Office said: "David McIntyre is wanted in America in connection with fraud allegations.
"On 22 March, the Court of Appeal rejected his appeal against extradition and he was refused leave to appeal to the Supreme Court.
"We have agreed to suspend extradition pending further representations to the Secretary of State from Mr McIntyre's solicitors."
The United States Embassy said it was an active case that is before justice officials and members of the judiciary, but was not willing to comment further.