Fabrice Muamba to start Great Manchester Run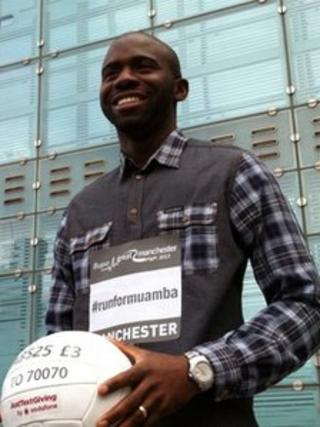 Fabrice Muamba, the footballer who suffered a cardiac arrest on the pitch, has been announced as the official race starter for the Great Manchester Run.
The former Bolton Wanderers midfielder collapsed while playing an FA cup tie against Tottenham Hotspur in March last year.
He recovered even though his heart stopped for 78 minutes and had to be restarted several times.
The 10km event, which attracted 40,000 runners last year, is held on 26 May.
The former England under-21 player retired from football in August on the advice of his doctors.
He now works with Hearts & Goals, a year-long campaign that aims to prevent death from sudden cardiac arrests.
The campaign has teamed up with charity Arrhythmia Alliance which helps place defibrillators (AEDs) in communities.
They are hoping that 92 fans - one from each football league club in England - will take part on behalf of Muamba and the charity.
The 25-year-old said he was proud to be setting off the Manchester Great Run.
"I'm grateful that I am still here and can take part after what happened to me and it's about being able to share my story with people," he said.
"To have people running for me - I am very honoured and very grateful."
Last year, Ethiopian athlete Haile Gebrselassie won the men's race for a fifth time, while the women's race was won by Kenyan Linet Masai.
The event was first held in May 2003, and created as a legacy of the 2002 Commonwealth Games.