Greater Manchester PCC Tony Lloyd wants 'no part' of salary cut plan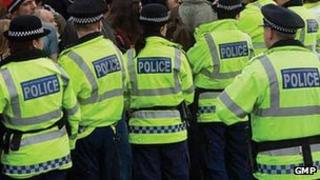 Greater Manchester's Police and Crime Commissioner has said new constables in his force will get more than the government-set minimum starting salary.
In January, the home secretary said salaries for new recruits should be reduced by £4,000 to £19,000.
But Tony Lloyd said the cut would "not be happening" in the region.
Greater Manchester Police Federation's Ian Hanson said the decision showed Mr Lloyd "grasped the realities of what it is like to be a police officer".
Mr Lloyd said: "[The] modest savings the proposals would generate would not outweigh the significant effect it would have on police morale."
"I want no part of this plan to slash starting salaries and it will therefore not be happening for police officers in Greater Manchester," he said.
"These men and women regularly put their lives on the line to keep us safe. It's right they get a decent wage and I'm not going to slap them in the face by saying they aren't worth it."
'Miserly in the extreme'
Mr Hanson said the commissioner had: "Correctly identified that our police officers do a difficult and extremely dangerous job and deserve to be properly rewarded.
"We understand the difficult times that we are living in, but the plans to slash the salaries of those at the most junior end of the service are miserly in the extreme."
Home Secretary Theresa May accepted the salary cut for new starters in January as part of recommendations on reform made by the Police Arbitration Tribunal.
Under those proposals, the £19,000 salary is to be given to those with the least or no relevant experience - such as those who join at 18.
But some recruits will start on £22,000 if they have experience, such as time spent as a special constable.