Abuse and violence concerns at Hindley Young Offenders Institution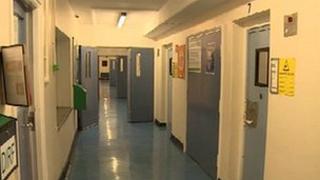 Concerns have been raised about abuse by officers and levels of violence at a young offenders institution.
Inspectors found Hindley Young Offenders Institution (YOI), near Wigan, Greater Manchester, was doing some good work to help inmates.
However, in common with other youth institutions, the report concluded it was having difficulty keeping young people safe.
A fight or assault occurred almost every day, some very serious, it said.
Inspectors heard "persistent, consistent and credible complaints about the abusive behaviour of a small number of officers", though relationships with staff were generally good.
Investigations into some alleged bullying incidents were not conducted rigorously enough and the use of force was "very high", the report stated.
'Fundamental responsibility'
However, young people were obtaining qualifications and standards of behaviour were improving, with most inmates getting nine hours out of cells each day.
Chief Inspector of Prisons (CIP) Nick Hardwick said: "Even only one-third full, and despite very good work, HMYOI Hindley illustrates the difficulty such establishments have in discharging their more fundamental responsibility - keeping the young people they hold safe."
Michael Spurr, Chief Executive Officer of the National Offender Management Service, said: "Hindley holds a very complex and challenging population and as HMCIP recognises, good progress has been made, particularly in education and purposeful activity.
"The safety of prisoners is a priority and we will look to address the concerns raised in this report as part of a radical review across the youth estate."