Gary Parkinson: Locked-in player answers Twitter questions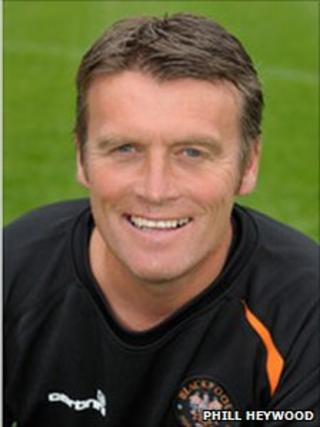 Former professional footballer Gary Parkinson, who cannot move, speak or swallow, is to answer fans questions on Twitter later.
Mr Parkinson, 45, moved back into his specially adapted home in Bolton late last year after two years in hospital.
His locked-in syndrome sees him communicate with his family by blinking.
The ex-Middlesbrough, Preston North End, Burnley and Blackpool player is answering questions from 19:00 BST.
'Good response'
"We've had about 50 questions already from fans and from former players," said his son Luke .
Fans are asked to follow @GaryParkyTrust and add the hashtag #AskParky with their questions.
Mr Parkinson was a youth team coach with Blackpool FC when he suffered the stroke in September 2010.
"Being at home has made a great difference to him," said Luke, who added that his father also assesses players for Middlesbrough FC on DVDs sent by the club.
He requires 24-hour care from a live-in nurse as well as further medical visits every couple of hours.
Fans and former colleagues have been involved in ongoing fundraising for the ex-player with the charity The Gary Parkinson Trust.