Dale Cregan 'apologised for murders'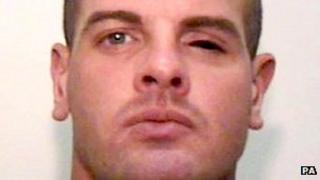 Dale Cregan told his mother he was sorry for killing four people including two policewomen, a court has heard.
Anita Cregan told Preston Crown Court that before the killings in Greater Manchester her family was threatened and police did not act.
She said: "He's confessed, apologised and said it shouldn't have happened."
Dale Cregan denies killing Mark Short, 23, in May as well as his father David, 46, who died three months later in a gun and grenade attack.
He is on trial, along with eight other men, for the men's murders.
'To be tortured'
Earlier in the trial he admitted murdering PCs Fiona Bone and Nicola Hughes in September.
The court heard David and Mark Short were killed following a decade-long feud between the Short and Atkinson families and their friends, who included Dale Cregan.
Ms Cregan told the court: "He told me in prison. You need to know the full extent of this case.
"We got threats, the grandchildren was going to be tortured.
"I went in June [to the police] and did not get any help."
She said she did not ask her son why he killed the police officers, adding: "He just said 'Mum you asked for help and police didn't give it us'."
She said: "He knows he's wrong. He's apologised for the whole thing.
"He's told me he's not coming home and he's sorry and he's sorry for wrecking our lives."
'Family to protect'
Ms Cregan said she did not ask her son about the shooting of Mark Short but told the court: "When you hear something like this has happened you're in shock, your life is turned upside down.
"I have had family to protect. If he's done it, he's done it."
Leon Atkinson, 35, from Ashton-Under-Lyne, Luke Livesey, 27, from Hattersley, Damian Gorman, 38, from Glossop, Ryan Hadfield, 28, from Droylsden, and Matthew James, 33, from Clayton, all deny murdering Mark Short and the attempted murders of three others in the pub at the time.
Francis Dixon, 37, from Stalybridge, and Jermaine Ward, 24, deny murdering David Short, the attempted murder of Sharon Hark and causing an explosion with a hand grenade.
Anthony Wilkinson, 38, had denied murdering David Short at his Clayton home last August, but changed his plea to guilty.
Wilkinson also admitted possessing a firearm, but denies attempting to murder Sharon Hark and causing an explosion with a hand grenade.
Mohammed Ali, 32, from Chadderton, denies assisting an offender.
The trial continues.