Manchester retains University Challenge crown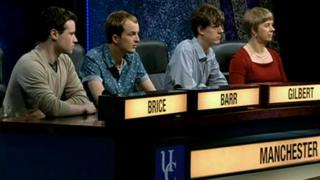 The University of Manchester has become only the second team to retain the title of University Challenge champion in the programme's history.
The team beat University College London in the final 190-140 to claim its fourth title in eight years.
Manchester's tally equals the current record for the number of series wins.
Magdalen College, Oxford, has also won the competition four times since the television series began in 1962.
The trophy was presented to the Manchester team by the Astronomer Royal Professor Martin Rees.
'Real buzz'
Team captain Richard Gilbert, a linguistics student, said the success was down to "the perfect broad range of knowledge across the team".
President and Vice-Chancellor of the university, Professor Dame Nancy Rothwell, said: "There is a real buzz around the campus today, having seen our team win University Challenge yet again.
"We are going to hold a celebration dinner for the team in June and I am particularly pleased for their coach Stephen Pearson who deserves great credit for these four victories in just eight years."