'True hero' unveils L/Cpl Stephen Shaw MC Way in Heywood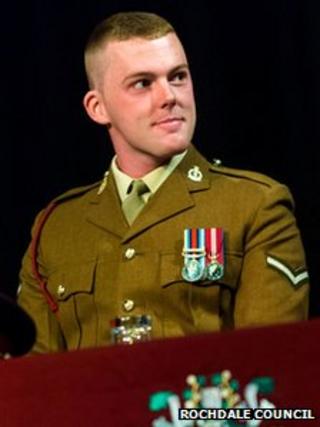 A Greater Manchester solider who was awarded the Military Cross for his bravery in Afghanistan has had a street named in his honour.
L/Cpl Stephen Shaw, who received the medal for exemplary gallantry, unveiled the sign, L/Cpl Stephen Shaw MC Way, in his home town of Heywood in Rochdale.
He was also awarded the Freedom of the Borough at Heywood Civic Centre.
The ceremony opened with a minute's silence in memory of Drummer Lee Rigby, who was killed in Woolwich last week.
Councillor Alan McCarthy said it was "appropriate" to remember Drummer Rigby, who grew up in nearby Middleton, at the opening of the ceremony for L/Cpl Shaw.
He said L/Cpl Shaw was "a true hero and the borough is proud - his actions were in the very finest traditions of the British Army".
'Very visible reminder'
The 24-year-old Royal Army Medical Corps medic was awarded his medal in March for his actions in Helmand, which saw him rescue a soldier who had been seriously injured in a Taliban ambush while under heavy fire.
He said it was "a real surprise when I heard I was to be awarded this honour, but it means a lot to me and my family".
He added that his achievements were "a team effort, so I'd also like to pay tribute to all those I have worked with and who have always supported me".
Council leader Colin Lambert, who spoke during the ceremony, said the street sign was "a permanent and very visible reminder" of L/Cpl Shaw's achievements.
The day also saw a parade by the Lancashire Veterans Association, army cadets, a pipes and drums band through Heywood to the town's Memorial Gardens.