Band On The Wall launches 'rock school' with Manchester College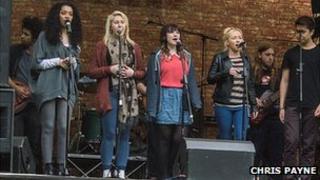 A Manchester venue has teamed up with the city's further education college to create a "21st Century rock school".
Band On The Wall (BOTW) and Manchester College will offer courses in sound engineering, management and performance at the venue from September.
A BOTW spokeswoman said they would be a "mix of lectures, workshops and putting on actual concerts".
The Charlatans' Tim Burgess said he "would have given my right arm for this when I was setting out".
The singer, who performed at the venue at the start of his career before joining the globally-successful band, added that he thought the courses would help "continue Manchester's great tradition of producing many of the UK's finest artists".
The foundation degree and diploma courses will "fast-track students into viable music careers" by supplying "real-life experience in an authentic and professional music business environment", the BOTW spokeswoman said.
The venue's chief executive officer Gavin Sharp said the aim of the partnership with the college was to "nurture today the stars and music industry professionals of tomorrow".
The courses were launched with a showcase in Manchester city centre by student bands from the college and BBC 6 Music's Craig Charles, who hosts a monthly soul and funk night at the venue.
Band On The Wall has been part of Manchester's music scene since the 1930s and was closed for a £4m facelift in 2005, reopening four years later.
It is a not-for-profit venue run by registered charity Inner City Music.