No charge over man who died in Wythenshawe house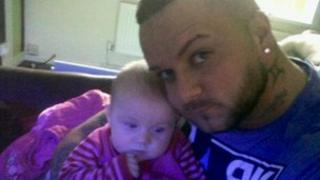 A man will not be charged over the death of a man who was found unconscious in a house in Manchester.
Damien Ball, 29, died in hospital on 18 February after police were called to a reported brawl in Pembury Close, Poundswick, Wythenshawe.
A 27-year-old man arrested on suspicion of murder told police he had acted in self defence.
The Crown Prosecution Service said there was no evidence to charge the arrested man.
Mr Ball was found unconscious on 17 Feb and taken to hospital.
The CPS's Nazir Afzal said: "Witness accounts describe Damien Ball entering the address uninvited and behaving aggressively towards the suspect.
"There was a violent struggle and as a result police were called.
"The suspect restrained Damien Ball, waiting for the arrival of the police, as he was concerned for his own safety and the safety of the other people in the house.
"There is no evidence that we could rely on to prove that the suspect was not acting in self defence or defence of others in the house at the time."