Manchester Day Parade tribute to Lee Rigby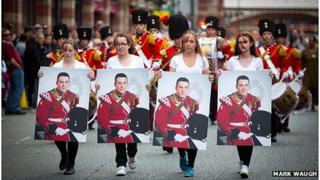 Large portraits of Lee Rigby carried by four girls from Manchester marked the start of the fourth annual Manchester Day Parade.
Followed by drummers from the soldier's regiment, one spectator said it was a "beautiful tribute" as many were moved to tears.
The parade down Deansgate was watched by tens of thousands of people.
One hundred and thirty community groups were represented in floats travelling from Castlefield to Albert Square.
The floats arrived in Albert Square to be met by a carousel and a 500-strong choir.
Some 2,000 performers, including cheerleaders, acrobats, a samba band, schools and scout groups, took part in the parade, which this year had a Wish You Were Here theme.
Vintage bus
Thirty people who came to Greater Manchester as evacuees during World War II also took part riding on a vintage bus.
Pam Hallworth, who still lives in Stockport after being evacuated from Guernsey, said: "People were given so much help by the local people that they've never forgotten it, so they are so proud to have taken part."
City councillor Pat Karney described the parade as "a great celebration of Manchester "saying he was "constantly amazed by the art works that are produced and the enthusiasm of all the participants".
He said the tribute to Drummer Rigby, who was brought up in Middleton, was to "show his family that everyone in Greater Manchester is thinking about them".
The soldier died in an attack near his barracks in Woolwich, south-east London, on 22 May.