Rebecca Leighton: Poison probe nurse to sue police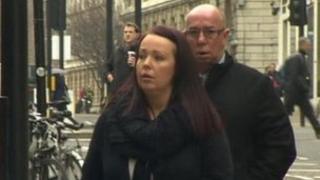 A nurse who spent six weeks in prison accused of poisoning patients at Stockport's Stepping Hill Hospital is to sue Greater Manchester Police (GMP).
Rebecca Leighton, 29, had charges against her of tampering with medication dropped in September 2011.
She had been arrested after 22 patients fell ill, eight of whom died.
The legal action relates to claims police made her private Facebook account available to the public and leaked her name to journalists.
'Abusive and distressing'
She claims a police officer requested passwords to her Facebook and hotmail account for the purpose of closing both to protect her privacy.
Ms Leighton alleges her Facebook account was closed then reactivated with a different password thus changing the settings from private - meaning only her friends could access her posts and photographs - to make it available to anyone.
Ms Leighton claims "highly abusive and distressing" messages were posted to her account by members of the public, and her family and solicitor were allegedly unable to shut the page down because the password had been changed.
The action for damages of up to £100,000 also alleges one or more police officers disclosed Ms Leighton's name to the media.
A statement issued by law firm Mishcon de Reya, which is representing her, said: "Rebecca has serious concerns about the way the police treated her personal and private information on and after her arrest.
"We have repeatedly put these questions to the police, which they have refused to answer.
"Only now that she has taken them to court have the police admitted that they were negligent and/or in breach of their duty of care to Rebecca by failing to close her Facebook account.
Stole drugs
"We look forward to the police providing a full and frank account at trial, if not before."
The charges against Ms Leighton in connection with poisoning patients at Stepping Hill were later dropped but she admitted stealing drugs and medicine from the hospital. Police found packets of painkillers and opiate-based drugs at her home.
The Nursing and Midwifery Council suspended her for three months in February for taking drugs from the hospital.
Her solicitor said in September 2011 she had been made a "scapegoat" by police.
A nurse who worked on the same wards, Victorino Chua, was later held on suspicion of three counts of murder and 18 counts of causing grievous bodily harm.
He was further arrested on suspicion of tampering with medical records and has been released on police bail. Mr Chua is due to report back to police on 9 July.
The police investigation into patient deaths at the hospital continues.