Manchester Cathedral window smashed in break-in attempt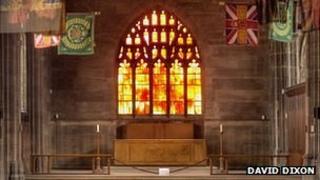 A stained glass window at Manchester Cathedral has been smashed during a break-in causing damage estimated at £20,000.
The damage was discovered after the cathedral's alarm went off on Saturday night.
Sgt Alex Tracey said police were "very keen to bring to justice the offender who has targeted this landmark".
The cathedral is currently closed while a new heating system is being installed.
The vandalised window is in the Regiment Chapel of the cathedral where a book of condolence is kept to remember men and women from the Duke of Lancaster Regiment who have died in service.
"It is a post-1940s window made of opaque glass that is not available anymore," said the Dean of Manchester the Very Revd Rogers Govender.
"It is distressing because we are not going to be able to restore the glass to its original condition."
A temporary wooden church has been built alongside the 13th Century building to house services while the refurbishment work is ongoing.