University of Salford sacks student-row deputy vice chancellor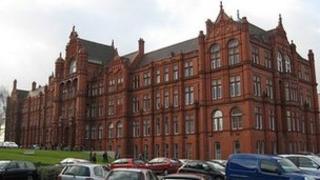 A senior member of staff at a Greater Manchester university has been sacked after a "heated" row with a student.
University of Salford has confirmed Dr Adrian Graves, deputy vice chancellor, registrar and secretary has been dismissed for gross misconduct.
An investigation was launched in March by the university into the row, which "did not come to blows".
Dr Graves, who has not commented, had tried to appeal against the decision, but it was rejected.
The university did not confirm the date the row between Dr Graves, from Sale, and the mature student happened.
No severance payment
In a statement, a spokesman said: "Following an investigation conducted by a special committee, chaired by an independent member of the University Council, and after the completion of an appeal process, Dr Adrian Graves has been dismissed from the university for gross misconduct.
"No compromise agreement payment has been made to Dr Graves."
A spokesman said Dr Graves had worked at the institution for more than five years.
He added the university will look at restructuring roles later this week, to cover his roles.
Earlier this month, a leaked confidential document revealed proposals by the University of Salford to close some courses affecting 75 staff and 1,300 students.
The university said the plans had not been approved but institutions must constantly review their courses.
In October, the university said revenue was down by £4m, with 440 fewer students and vice chancellor Prof Martin Hall said higher education faced its "biggest challenge in 50 years".