Jade Anderson death: Parents hold 'positive' talks with ministers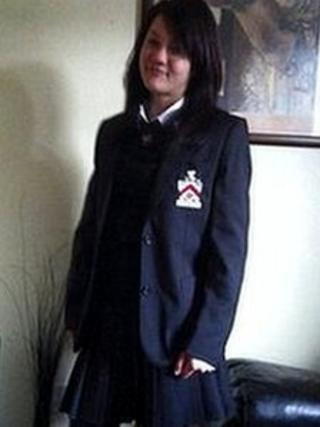 The parents of a teenager mauled to death by dogs have held "very positive" talks with ministers about tightening dangerous dog laws.
Jade Anderson, 14, was attacked while visiting a friend's house in Atherton, near Wigan, on 26 March.
Shirley and Michael Anderson said changes are needed to the Dangerous Dogs (Amendment) Bill to stop their experience "from happening to others".
The pair vowed to continue campaigning in Jade's memory.
The family started a petition calling for the law "to make dog owners accountable". They asked for police to be able to prosecute dog owners if their animal attacks "somebody on private property."
The government said in a May debate it was planning to extend police powers to deal with attacks on private property.
'Saving lives'
The two met Environment Minister Lord de Mauley in Westminster alongside Bolton West Labour MP Julie Hilling to discuss their concerns.
Mr Anderson, 34, said: "It is about responsible dog ownership, as a dog owner you should be responsible for your dogs.
"Something needs to be done about it, we are talking about saving lives and helping people."
The Andersons said there should be more early intervention with owners and more help for councils and police forces to deal with potential problem animals.
Police officers investigating Jade's death said there was no evidence to prove a crime has been committed and no prosecutions are being sought "at this stage".
The dogs involved in the attack, thought to be two bull mastiffs and two Staffordshire bull terriers, are not illegal breeds.
'Preventative measures'
The Dangerous Dogs (Amendment) Bill aims to remove the immunity from prosecution of dog owners whose animal attacks someone on private property.
Under the plans for England and Wales, announced in February, a dog owner could be prosecuted if they fail to stop their dog attacking someone on their own, or someone else's property.
Julie Hilling said: "The biggest issue we want are preventative measures, so we can actually have dog control notices or similar so there can be early intervention so people are helped to be responsible owners."
She added the bill will be good for "people who come to the attention of the police and the authorities", but "early intervention" is also needed for dogs which show a potential danger to the community.
Speaking last month, Environment, Food and Rural Affairs Minister David Heath said he was confident the proposed Anti-social Behaviour, Crime and Policing Bill would help tackle irresponsible dog ownership.
A second reading for the bill in the House of Commons is set for 10 June.