Bishop David Walker named new Bishop of Manchester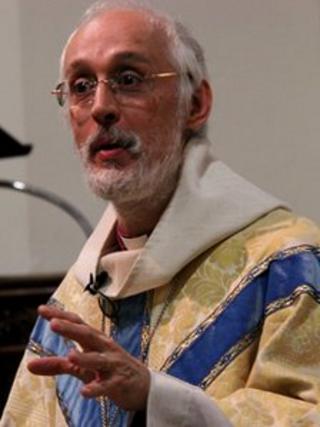 A former pupil of Manchester Grammar School has been named as the new Bishop of Manchester.
The Right Reverend David Walker, 56, is currently the Bishop of Dudley in the Diocese of Worcester.
The married father-of-two, who was ordained in 1983, has held the position since 2000.
He will replace the Right Reverend Nigel McCullough, who retired in January after 10 years as Bishop of Manchester.
Cuts critic
"I was born and grew up here and I'm delighted that I will now have the opportunity to give something back to the place that gave me my start in life," Bishop Walker said.
Earlier this year he was one of 43 bishops who signed a letter arguing that benefit cuts would have a "deeply disproportionate effect" on children.
Opposing the government's benefit changes earlier this year the bishop told the BBC: "I can remember sitting up late at night with my mother, who was a single parent trying to work out whether she could afford to keep me at school past my O-levels.
"We just about made it. Benefits today are getting worse and I'm not sure that children who were in the same position I was in would get the same opportunities."
The Department for Work and Pensions said changing the system would help get people "into work and out of poverty".
Bishop Walker started his ministry as a curate of St Mary's Church in Handsworth, Birmingham, before becoming a team vicar firstly at Maltby and then in Bramley.
He has served on the Board of the National Housing Federation from 1996 to 2002, has been a chair of the Housing Authorities Charitable Trust, and served on the Equality, Diversity and Human Rights panel for the College of Policing.
A graduate of King's College, Cambridge, in 1975 he took part in the International Mathematical Olympiad, described as the pinnacle of mathematical competition among high school students.