Bolton Wanderers drop QuickQuid pay-day loan firm sponsor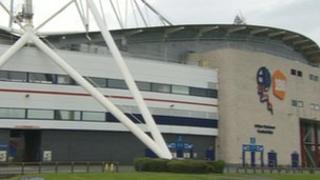 Bolton Wanderers Football Club have dropped plans to be sponsored by pay-day loan company QuickQuid after fans protested against the move.
The club said it had taken the decision after "feedback" from fans and discussions with "local and national politicians".
A petition against the Championship club's two-year sponsorship deal received almost 4,500 signatures.
The club will now be sponsored by Bolton-based energy company FibrLec.
The team's kit will carry its logo along with the Bolton University logo, as the firm grew from the university.
In a statement, the club said: "Whilst we anticipated some negative responses from the initial agreement, we underestimated the adverse reaction to the sector of business in which the sponsor operated".
A protest attended by fans and Bolton West MP Julie Hilling was held outside Bolton Town Hall after the QuickQuid deal was announced.
The MP said the pay-day loan industry "exploits vulnerable people who need ready money".
'Bolton family'
Earlier this month the industry was criticised by regulator the Office of Fair Trading for "widespread irresponsible lending" and charity Citizens Advice for being "out of control".
The Consumer Finance Association, which represents lenders including QuickQuid, said pay-day loan firms were a "positive choice for people from all walks of life".
Leader of Bolton Council Cliff Morris said he was "pleased with the decision to reconsider" the deal.
He said: "We have been in discussion with the club since last week's announcement to raise our concerns and those of the community. Their response clearly shows the value the club places on the support of their fans and the wider Bolton family."
Bolton Wanderers chairman Phil Gartside said: "We have worked for years to build trust and participation with the community through our Community Trust, education programmes, and other initiatives that are currently underway in partnership with local and national government.
"We don't want our commercial relationships to come between us and our community, and neither does QuickQuid."