MPs say Museum of Science and Industry should not be 'sacrificed'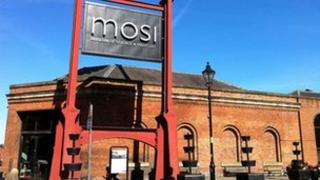 Six MPs have signed a motion asking the group owning Manchester's Museum of Science and Industry not to close it for "short-term budgetary gains".
The Science Museum Group has announced that the museum could close if further cuts to budgets are made.
The early day motion, led by Manchester Withington MP John Leech, states that the museum should not be "sacrificed".
York's National Railway Museum and Bradford's National Media Museum are also under threat of closure.
The motion states that Parliament should have "deep concern" about the possible closure of "Manchester's most popular visitor attraction".
Mr Leech said the museum was "the jewel in the crown of Manchester's cultural offer" and that he would be writing to "all Greater Manchester MPs [to] ask them to sign my motion".
The motion was co-signed by Mr Leech's Liberal Democrat colleagues Martin Horwood, Annette Brooke, John Pugh and Ian Swales, as well as Conservative MP Sir Peter Bottomley.
A spokesman for the museum group, which also owns London's Science Museum, said on Wednesday it was in a "weak" financial position and had to consider "big cuts".