Manchester tribute to suffragette Emily Davison unveiled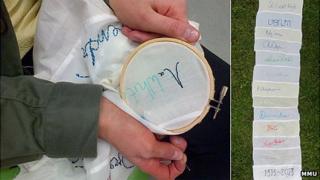 A tribute to suffragette Emily Davison, who was trampled by the king's horse at the 1913 Epsom Derby, has been unveiled on the 100th anniversary of her death.
The tapestry features 100 signatures sewn on by Manchester Metropolitan University (MMU) staff and students.
Lynn Setterington, who organised the work, said she hoped it would "raise awareness of this remarkable woman".
Davison, who served time in the city's Strangeways prison, died four days after she was injured at the Derby.
A forthright member of Manchester activist Emmeline Pankhurst's Women's Social and Political Union from 1906 onwards, she was a strong believer in the suffragette cause, which sought to secure voting rights for women.
She was frequently arrested for acts ranging from causing a public disturbance to burning post boxes and was sentenced to a month's hard labour in Strangeways after throwing rocks at chancellor David Lloyd George's carriage.
During her sentence, she went on hunger strike and blockaded herself into her cell, leading prison staff to turn a hose on her and almost fill her room with water.
Following the incident, she successfully sued the prison and was awarded 40 shillings.
Ms Setterington said she had come up with the idea of the tapestry after being challenged to explore what gender equality meant a century after Emily stepped out in front of the king's horse.
She said the "collaborative cloth comprising 100 sewn signatures - one for each year since her death" had led to "interesting conversations and discussions".
The work will go on display at the People's History Museum in Manchester until 14 June.