Moorland fire near Rochdale brought under control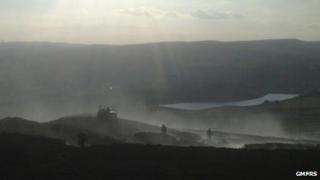 A large fire broke out on 100 hectares (247 acres) of moorland near Rochdale.
Fire crews from Greater Manchester and West Yorkshire tackled the blaze close to Halifax Road near Littleborough at 16:40 BST on Saturday.
It took five hours to bring the fire under control using water backpacks and beaters.
A Greater Manchester Fire Service spokesman said a crew had returned to the area at about 07:00 to "deal with small pockets of fire" that remained.
It is the second fire to break out in the area in a month, after crews from both counties tackled a similar-sized fire between Mytholmroyd and Littleborough in May.