Manchester Metropolitan University named UK's 'greenest'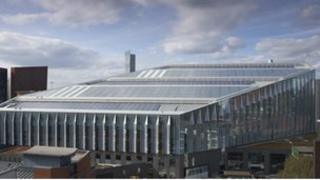 Manchester Metropolitan University (MMU) has been named as the greenest in the UK by a student network.
The People & Planet Green League ranks 143 universities on environmental and ethical performance.
For the second year running, Plymouth University finished second. Bangor University was named the most sustainable Welsh institution.
Edinburgh Napier topped the Scotland list, with Gloucestershire, Worcester and Brighton making the UK top five.
The universities were ranked on several different factors, including environmental policy, carbon management, waste recycling, transport emissions and water consumption.
'Positive environmental impact'
MMU's new £75m Business School and Student Hub incorporates rainwater recycling and a borehole heating system.
It has also invested in solar panels and green roofs, planted with turf, at the All Saints campus on Oxford Road.
Professor John Brooks, Vice-Chancellor of MMU, said the whole university community "will be thrilled with this recognition".
He said: "We firmly believe that a strong ethos of sustainability not only strengthens the university's appeal to students but improves the experience in so many different ways.
"In partnership with our students, we are working to create a sustainable university which goes beyond being carbon neutral and actually has a positive environmental impact."