Peel Group corporation tax payments criticised by PAC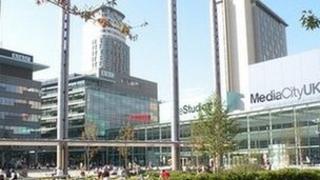 A UK property firm has denied accusations it is not paying enough corporation tax.
Peel Group was criticised at a meeting of the Public Accounts Committee (PAC) at MediaCityUK in Salford on Monday.
Chair of the committee, Margaret Hodge, said the property giant was not paying corporation tax on the most profitable parts of the firm.
A spokesperson for Peel Group said the company pays the "appropriate level of tax".
Ms Hodge raised the issue at a meeting to discuss the BBC's relocation to MediaCityUK, which Peel owns.
'Not invited'
She said the committee was "concerned by the tax habits" of the firm, adding: "The most profitable parts of the Peel group are managing to pay no UK corporation tax whilst those bits making less profits are at least paying some.
"At the maximum they pay 10% tax. They do not pay their fair share of tax."
In a statement the firm said: "The Peel Group would like to make it clear that it rejects any assertion that it is not paying its fair share of corporation tax.
"All Peel operating businesses, including Peel Media (the developers and owners of MediaCityUK), are UK domiciled for taxation purposes and pay the appropriate level of UK tax.
"Peel was not invited to provide any information to the PAC prior to Monday's hearing and would be more than happy to do so on request."