First Lions captain Robert Seddon remembered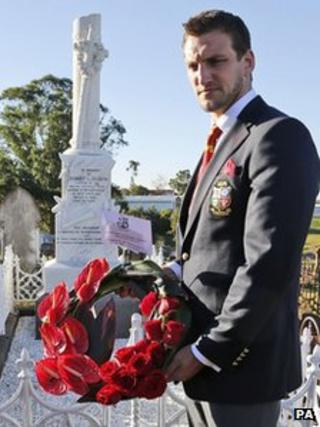 Members of the British and Irish Lions rugby team have taken time out of their tour of Australia to pay tribute to the side's first captain, Robert Seddon.
Current skipper Sam Warburton laid a wreath at Seddon's grave in a ceremony in Newcastle's Campbells Cemetery.
Seddon, who was from Salford and played for Swinton, was killed in a sculling accident while leading the first Lions tour in 1888.
Lions manager Andy Irvine said Seddon had left an "incredible legacy".
The British & Irish Lions are made up of English, Irish, Scottish and Welsh rugby union players. The side tours every four years to either South Africa, Australia or New Zealand.
Seddon was the captain of the side's first tour, which was put together by sporting entrepreneurs Alfred Shaw and Arthur Shrewsbury after they toured an England cricket side in Australia.
A forward who was previously capped by England, Seddon began his career with Broughton Rangers before moving to Swinton and represented Lancashire at county level.
He was reported to have been 28 when he died halfway through the tour following the accident on the Hunter river in New South Wales.
The current captain and manager were joined at Seddon's grave by Lions player Manu Tuilagi, chairman Gerald Davies and chief executive John Feehan, Australian Rugby Union president David Crombie and Newcastle MP Tim Owen.
Mr Irvine said it was "a great honour to be here to commemorate our first captain".