Dale Cregan's grenades stashed in Oldham drain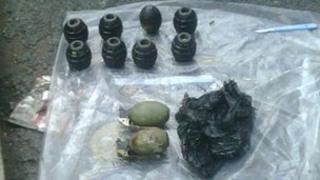 Grenades believed to belong to double police killer Dale Cregan were found hidden in a drain in a house in Oldham, Greater Manchester during his trial.
Ten grenades, of the type used to kill PCs Fiona Bone and Nicola Hughes, were discovered during a raid on 3 June.
Cregan also used a grenade in the killing of David Short at his home in Clayton.
Police said the M75 ordnance, used in the Yugoslav civil war in the 1990s, were found in Onchan Avenue, Glodwick.
Greater Manchester Police believe they have recovered all of the grenades Cregan stashed.
'Brutal and callous murders'
Cregan admitted murdering PC Fiona Bone and PC Nicola Hughes and father and son David and Mark Short but was cleared of attempted murder of Sharon Hark after a 18-week trial at Preston Crown Court.
Now the trial is over, the discovery of the haul of grenades can be reported.
The weaponry was thought to have been used mainly by Serbian forces during the Yugoslav war.
Det Ch Supt Darren Shenton said the use of grenades in the "horrific, brutal and callous murders" shocked everyone.
He said Greater Manchester Police were committed to ensuring no-one else would fall victim to such an attack.
'Saved lives'
He said: "These are military-grade weapons which have rarely, if ever, been seen on the streets of Manchester and sadly the stigma of their devastating impact will loom over this city for some time.
"We now believe that we have recovered all the grenades from this particular batch and I have no doubt that in taking these lethal weapons off the streets we have saved lives and made Manchester a safer place.
"It would be impossible to say with 100% certainty that there are no grenades left in Manchester and we will never rest while there is even a slim chance that such weapons do still exist."
Det Ch Supt Darren Shenton urged anyone who knows the whereabouts of any weapons to come forward.
"If you tell us where weapons are you will be helping to save lives and avoid the atrocities that have devastated so many families," he added.