Peel Energy Trafford: Council lodges incinerator appeal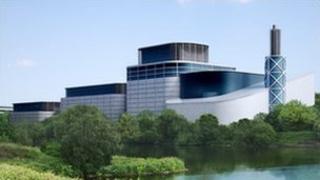 A council has lodged an appeal after the government approved plans for a biomass incinerator in Greater Manchester despite local opposition.
In May, a government inquiry backed plans by Peel Energy for a £70m plant in Davyhulme, even though Trafford Council and residents objected.
An inspector said health fears were outweighed by the plant's benefits.
Trafford Council said it believed it had reasonable grounds for a judicial review of the government decision.
The Davyhulme plant is expected to produce electricity by burning mainly waste wood.
Jon England, project manager at Peel Energy said: "Both the secretary of state and the planning inspector were unequivocal that the Barton Renewable Energy Plant (BREP) proposal accords with all relevant national and local planning policies.
"We will consider the details of Trafford Council's legal challenge against the secretary of state's decision to grant planning permission to BREP very carefully."
Global warming
Peel Energy said the plant would produce electricity for 25 years, create 100 construction jobs and 15 jobs at the plant.
Pete Kilvert, chairman of Breathe Clean Air Group, said he was delighted the council had lodged an appeal.
"The grounds of the appeal are still confidential but there are significant areas that the council is progressing and we're just hopeful the outcome will be positive," said Mr Kilvert, who lives in Urmston, 1.5 miles (2.4km) away.
He added: "My main fear is on health grounds. Burning wood produces tiny particles which are bad for health but not tested for at the moment. It also produces more carbon dioxide than burning coal, which is not helping global warming."
The Environment Agency has previously said it was satisfied the incinerator would not pose a risk to people's health.