The Christie: Bikers travelling length of UK on one day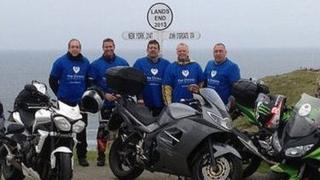 Five bikers have marked the longest day by driving the length of Britain to raise money for cancer hospital The Christie in Manchester.
The five, who work for Network Rail in Manchester and Liverpool, completed the 840 miles from John O'Groats to Land's End in just over 16 hours.
Motorcyclists Darren Shelmerdine, Dave Connell, Steve Pugh, Stuart Quinn and Martin Yates set off at 04:02 BST.
Mr Shelmerdine and his parents were all treated at The Christie.
"On a personal level it's good to give something back to the hospital that's been looking after me the last nine years," he said.
The group started at sunrise and completed the journey at 20:12 BST.