Salford Royal Hospital gun threats suspect charged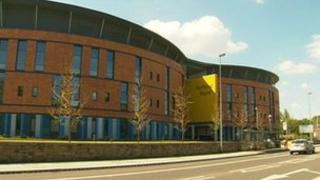 A man has been charged with possession of a firearm after nurses were threatened at gunpoint at a Greater Manchester hospital, in May.
Police arrested two people at Salford Royal Hospital on 25 May, following reports of a man with a gun on a ward.
Christopher Turkington, 41, of My Street, Weaste, was remanded over four counts of possession of a firearm, at Manchester Magistrates Court.
Victoria Turkington, 40, faced the same charges in May.
Ms Turkington, of Briar Hill Court in Pendleton, was remanded over the charges.
No-one was injured in the incident at the hospital.