Julie Jones murder in Manchester: Mother's plea to catch killer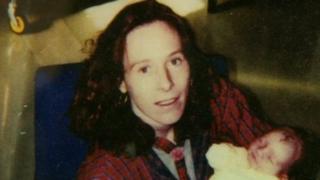 The mother of a woman who was murdered 15 years ago has begged those who know who killed her daughter to contact detectives.
Julie Jones' body was found naked wrapped in a carpet under bushes in Old Smithfield Market, Manchester, on 3 July 1998. She died of crush injuries.
Police have renewed an appeal to catch the 32-year-old sex worker's killer.
Her mother Theresa Hulme, said: "I want to lay her to rest before I die. It's been so hard, it's been heartbreaking."
Ms Jones was reported missing by her housemate on 27 June 1998.
A post-mortem examination found she died of severe crush injuries.
Her clothes and jewellery have never been found. Ms Jones left behind two sons.
Her mother, from Bury, said bringing them up was the only way she has coped with losing her daughter.
"If it hadn't have been for the kids and my mind being occupied with them I don't think I'd have been able to grasp what had happened."
She said losing their mother had also had a big impact on the children's lives.
"The eldest boy even now can't talk about it - I don't think he accepts it," she said.
"The youngest was only 18 months but he kept saying 'Nana, where's mummy Julie?'
"What can you say to an 18-month-old baby?"
'Lay her to rest'
"I know who murdered my daughter but I haven't got the proof and the police haven't.
"I wish somebody who knows these people - because I know them - would just give the police a ring and give them a lead.
"If you have any sort of conscience please ring the police so me and her two lads can try and get on with our lives.
"I want to lay her to rest - that's all I pray for."
Martin Bottomley, head of investigative review at Greater Manchester Police's major and cold case crime units, said the force would not close the case "until Julie's killer is brought to justice".
He said: "Take Julie's lifestyle out of the equation and this is about a mum desperately seeking the truth about her daughter's killing and living in hope that her murderer will finally be brought to justice."
Mr Bottomley said since her death advances in forensic technology had "a big impact" on helping the force to investigate historical crimes and pursue a conviction.