Rochdale social care workers stage town protest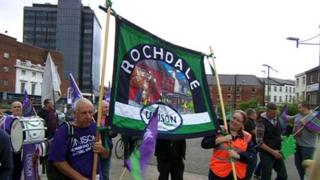 Care workers who are taking their bosses to an employment tribunal have staged a rally in Greater Manchester.
Ninety-nine employees of Future Directions CIC, which provides social care for disabled people in Rochdale borough, marched though the town.
The union Unison claims new pay and conditions with the not-for-profit firm amount to unfair dismissal.
Future Directions, which won the tender for Rochdale in 2012, said current pay and conditions were unsustainable.
The union, which has lodged 99 cases with the tribunal in Manchester, claims the firm took on the contract from Rochdale Council knowing it would be unable to maintain terms and conditions of staff.
Unison spokeswoman Helen Harrison said: "The fight that this group of workers face today could be that of any worker tomorrow. They have had their employment rights breached, pay slashed and conditions reduced."
Future Directions said: "Unfortunately, it is not sustainable in the current climate to maintain the existing staff on their previous terms and conditions."