Death crash widow 'devastated' over freed footballer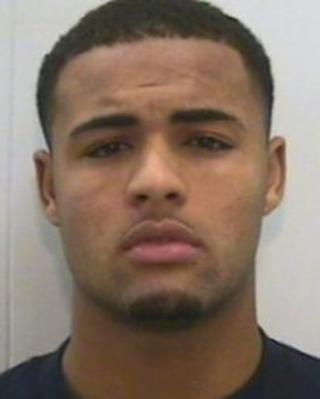 The family of two people killed by an ex Manchester City footballer say they are "devastated" at Courtney Meppen-Walter's early release from prison.
He was jailed for 16 months for killing brother and sister Kulwant Singh and Ravel Kaur when his Mercedes hit their car in September.
Meppen-Walter, 18, who was a city player when he crashed, has been released after four months.
Mr Singh's widow said she felt "badly let down" by the justice system.
A statement from Kushwant Kaur, the widow of Kulwant Singh, said: "The news of Meppen-Walter's release from prison has devastated me.
"His original sentence of 16 months for causing death by careless driving to both my husband and his sister was not sufficient in the first place."
Meppen-Walter admitted causing death by careless driving at Manchester Crown Court in February, which heard he was driving at up to twice the 30mph limit in central Manchester at the time of the crash.
The sentencing judge said he would serve half his sentence in custody, but might be released earlier on an electronic tag.
The 18-year-old was also banned from driving for three years.
'Fleeing persecution'
Meppen-Walter, of Middleton Road, Blackley, has not played for Manchester City's first team but has captained the England under-18 squad.
The court was told Mr Singh, 32, and Mrs Kaur, 37, had been sitting in the front of a Nissan Micra when it was struck by Meppen-Walter's Mercedes C220 saloon, owned by his grandfather, at 22:15 BST on 1 September.
They had been emerging from a side street when the crash happened, at the junction of Great Ducie Street and Sherborne Street.
At the time of the impact, Meppen-Walter was driving at 55.89mph and was accelerating, the court heard.
Police said Mrs Kaur's 16 and 17-year-old sons, have recovered from the crash but are orphans as their father was killed in Afghanistan.
The crash victims came to the UK in 2001 to start a new life after fleeing persecution by the Taliban in Afghanistan.
Meppen-Walter had one previous conviction for speeding - again doing 56mph in a 30mph zone.
His contract with Manchester City has expired and was not renewed, for footballing reasons rather than because of the case.