Footballer Courtney Meppen-Walter returned to jail after release error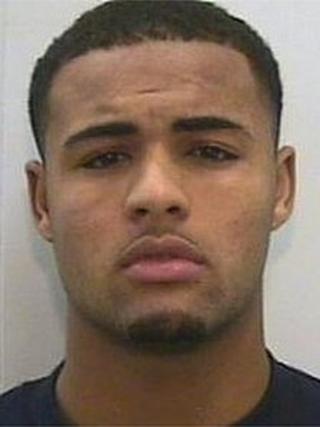 An ex-Manchester City footballer mistakenly released from prison early after killing a brother and sister in a car crash has returned to jail.
Courtney Meppen-Walter, 18, had served a quarter of his 16 months sentence for the deaths of Kulwant Singh and Ravel Kaur.
The family's solicitor said his release caused "further anguish and trauma".
A Greater Manchester Police spokesman said officers "returned him back to prison" on Monday night.
He added that after the officers went to Meppen-Walter's home and told him of the mistake, he "voluntarily" gave himself up for return.
Meppen-Walter admitted causing death by careless driving at Manchester Crown Court in February.
At his sentencing, the court heard Meppen-Walter, a former England under-18 squad captain, was driving at up to twice the 30mph limit in central Manchester at the time of the crash in September, last year.
The sentencing judge said he would serve half his sentence in custody, but might be released earlier on an electronic tag.
He was also banned from driving for three years.
A Prison Service spokesman said an investigation into why he had been released after four months would take place.
The court was told Mr Singh, 32, and Mrs Kaur, 37, had been sitting in the front of a Nissan Micra when it was struck by a Mercedes C220 saloon driven by Meppen-Walter, owned by his grandfather, at 22:15 BST on 1 September.
They had been emerging from a side street when the crash happened, at the junction of Great Ducie Street and Sherborne Street.
Meppen Walter has been returned to prison in Lancaster, police said.
Meppen-Walter, of Middleton Road, Blackley, has not played for Manchester City's first team.