Linzi Ashton murder: Reward offered for capture of Michael Cope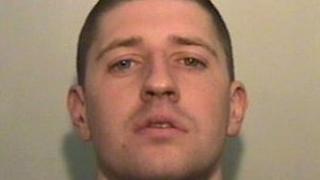 A £5,000 reward has been offered for information leading to the arrest of a man being sought in connection with the murder of his ex-partner in Salford.
Michael Cope, 28, is wanted over the death of Linzi Ashton, 25, who was found dead at her home in Westbourne Road, Winton, on Saturday.
Ch Supt Kevin Mulligan said Mr Cope represented "a risk to the community".
He also reiterated a warning that anyone found to be helping Mr Cope evade arrest would be prosecuted.
Mr Mulligan said a photograph of the 28-year-old had been "widely circulated but he has still not handed himself in, so it is likely that he is being offered sanctuary by his associates".
"That is why we are announcing this reward for anyone who has information leading to Cope's arrest and conviction," he added.
"I want people to think long and hard and if you know where Cope is then coming forward will not only lead to a financial reward but also the reward of helping to give Linzi's family the justice they deserve."
'Acrimonious'
A police spokesman said it was thought the mother-of-two was last seen alive by a friend at about 02:00 BST on Saturday.
She had been seen "out together in public" with Mr Cope on Friday.
Her body was discovered at about 18:00 BST on the same day.
The spokesman said she had been in a brief but "acrimonious" relationship with Mr Cope, but police had been trying to arrest him since April, when she made an allegation of rape against him.
Ms Ashton also made a subsequent report of assault against Mr Cope in May.
Greater Manchester Police has referred the case to the Independent Police Complaints Commission (IPCC) because of those reports.
The force has previously faced criticism for its failure to protect victims of domestic violence.
The case of Clare Wood, who made several complaints to police before she was killed by an obsessive ex-boyfriend in 2009, led the IPCC to conclude there had been "individual and systemic" failures by the force.
That case led to the inception of the Domestic Violence Disclosure Scheme (DVDS), a scheme nicknamed Clare's Law after Ms Wood, which gives people the right to ask police if their partner has a history of domestic violence.