Greater Manchester's Police and Crime Commissioner reveals deputy role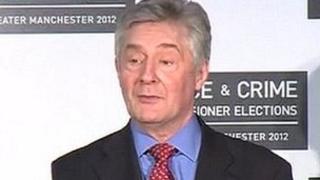 Greater Manchester's Police and Crime Commissioner (PCC) has announced he will be recruiting a deputy.
Tony Lloyd, who become the area's first PCC in November, said the £55,000 role was "necessary... to assist me in effectively holding police to account".
He said it was "an exciting opportunity for someone who shares my passion to build safer communities".
The move was criticised as "not required" by Wigan Conservative Federation chairman Michael Winstanley.
Mr Winstanley, who ran against Labour candidate Mr Lloyd for the role of PCC, said it was a "scandal that taxpayers' money will be wasted in this way".
He added that he was urging Mr Lloyd to "think again and drop this ridiculous idea".
'Real challenge'
A spokeswoman for Mr Lloyd said though the legislation which set up PCCs allowed Mr Lloyd to make a personal appointment to the deputy position, he had decided to use a "transparent and open selection process" instead.
Mr Lloyd said he had "carefully considered whether it was necessary for me to appoint a deputy".
"I have come to the conclusion that this is a role I need to assist me in effectively holding Greater Manchester Police to account and driving forward the community safety agenda in our region," he said.
"We face a real challenge in Greater Manchester as a result of massive budget cuts to police, councils and other agencies imposed by central government, compounded by the difficult economic climate.
"I'm looking for someone who not only understands policing and crime, but has a track record of bringing agencies and local communities together to fight for a shared goal."
The successful applicant for the role of deputy is due to be announced on 26 July.