Human chain protest over Trafford General A&E closure plan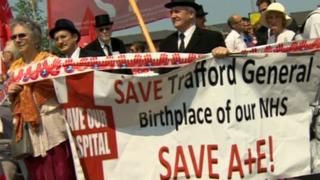 Hundreds of campaigners have formed a human chain around a Greater Manchester hospital in protest at plans to close its accident and emergency department.
Trafford General Hospital is widely regarded as the birthplace of the NHS and the event also celebrated the service's 65th birthday.
NHS Trafford said in January the department would close because of low patient numbers and safety concerns.
But campaigners have said a closure would put lives at risk.
They said they hoped the event would "show how much people care and pile on the pressure to keep it open".
Matthew Finnegan, chairman of the Save Trafford General campaign, said: "With A&E departments in crisis all over the country, it would make no sense at all to shut down casualty at Trafford - and just days after its proud anniversary as the birthplace of our NHS."
Trafford General is known as the birthplace of the NHS, as it treated the first ever NHS patient when the health service was inaugurated in 1948.