Manchester Mega Mela 'brings community together'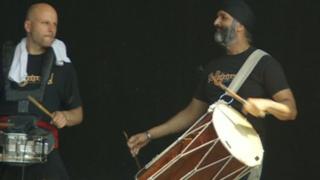 South Asian arts and culture are being celebrated by thousands at the Manchester Mega Mela festival over the weekend.
The free event, featuring music, dance and traditional crafts, has been taking place at Platt Fields Park in Rusholme.
About 60,000 people were expected to attend over the two days.
Manchester city councillor Rosa Battle said the Mela was a "wonderful celebration which brings the entire community together".
The event has been organised by representatives of communities from Bangladesh, India, Nepal, Pakistan and Sri Lanka.
Co-organiser Khairul Alam said: "The Mela is a celebration of the cultural diversity which exists here in Manchester."