Teenage girl rescued from weir in Bury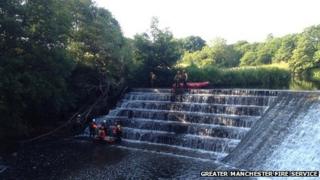 A teenage girl had to be rescued from a weir in a Greater Manchester park.
The girl, 14, was thought to have hurt her spine after jumping into a river at Burrs Park, Brandlesholme, Bury, on Sunday.
Ian Tracey, from Greater Manchester Fire Service, said: "We plead with people of all ages stay out of open water no matter how tempting it looks."
Firefighters were called to the park just after 18:03 BST. The girl was carried from the weir on a stretcher.