Nurse bailed in Stepping Hill saline deaths probe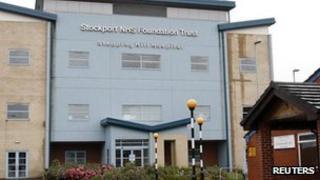 A nurse arrested by police investigating the contamination of products at Stepping Hill Hospital has had his bail extended again.
Victorino Chua, 47, was arrested on suspicion of murdering three patients and causing grievous bodily harm with intent to 19 others at the hospital.
Mr Chua, who was arrested in January 2012, is bailed until 29 November.
Twenty-two people were poisoned at the hospital in Stockport, Greater Manchester in June and July 2011.
Staff at the hospital called police after they discovered a batch of saline drips had been tampered with.
Eight of those poisoned later died, five of them from natural causes.
Officers are also investigating the tampering of medical records at the hospital in January 2012.
Mr Chua was arrested on suspicion of the murders of Tracey Arden, 44, Arnold Lancaster, 71, and Derek Weaver, 83 in January 2012.
'Fair and just'
Assistant Chief Constable Steve Heywood said: "A comprehensive file of evidence continues to be compiled and is currently being reviewed by the Crown Prosecution Service.
"Given the size and scope of the investigation the content being considered is vast and complex and it is only right that it is reviewed meticulously and properly considered before any decision about potential charges is made.
"This process is ongoing and that is why this man's bail has been further extended, so that a fair and just decision can be reached based upon all the available evidence."
Prior to Mr Chua's arrest, Rebecca Leighton spent six weeks in prison accused of poisoning patients at Stepping Hill Hospital.
Charges against her of tampering with medication were dropped in September 2011.
She admitted stealing drugs and medicine from the hospital after police found packets of painkillers and opiate-based drugs at her home.
The Nursing and Midwifery Council suspended her for three months in February for taking drugs from the hospital.
In June, Ms Leighton's solicitors revealed she is to sue Greater Manchester Police for damages of up to £100,000 over claims police made her private Facebook account available to the public and leaked her name to journalists.