Marcel Vasile jailed over Romanian sex slave case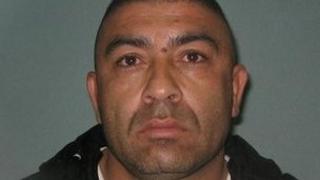 A man who "bought" a woman trafficked from Romania and forced her to work as a prostitute has been jailed.
Marcel Vasile, 36, a Romanian national, was found guilty of rape, trafficking within the UK for sexual exploitation and controlling prostitution for gain.
At Manchester Crown Court he was jailed for 15 years and ordered to sign the sex offenders register indefinitely.
The victim was 18 when a father and son trafficked her into the UK from Romania in November 2007, police said.
Bogdan Nejloveanu, 53, and Marius Nejloveanu, 25, "sold" her to Vasile the following February, Greater Manchester Police said.
Vasile took the victim to a house in Dagenham where he held her captive and raped her. He later took the woman to brothels, where he forced her to work as a prostitute.
On 19 March, 2008, the victim escaped from Vasile and went to police.
Vasile was arrested but gave a false name and the victim, who was frightened of him, was reluctant to give details about her ordeal so he was released without charge, police said.
Following the arrests of Marius and Bogdan Nejloveanu, police traced Vasile to a prison in Spain.
Free from Vasile, the victim supported a prosecution and he was extradited in December.
He must return to Madrid to finish his sentence for trafficking offences in Spain before returning to prison in the UK, police said.