Greater Manchester Police: Cregan 'not highest priority'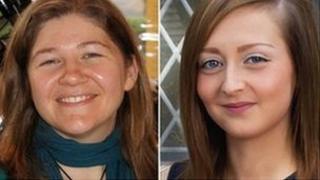 Killer Dale Cregan was "not the highest priority" for detectives last year, senior police officers have admitted.
Greater Manchester Police (GMP) said Cregan and his associates were not seen as a serious threat before the murder of Mark Short in a pub in Droylsden.
Cregan later killed Mr Short's father and two police officers.
Chief Constable Sir Peter Fahy said the murders had revealed a "far-reaching web" of crime but the city's gangs were now being "systematically dismantled".
PCs Fiona Bone and Nicola Hughes were killed in September by Cregan.
An operation launched in May targeting gang-related crime in the east of Greater Manchester has seen more than 300 arrests made.
Operation Challenger has also led to the seizure of property worth £2m and drugs with a street value of £490,000 since October.
'Permanently tackle'
The operation has seen the force work with local councils, other emergency services and central government departments to "target the criminal networks and families in the communities of Tameside and north and east Manchester", a GMP spokesman said.
As a result, five of the 164 gangs in its area had been "absolutely decimated", the force said.
GMP said the multi-agency operation was tackling "every area of a criminal's life" including their business interests, properties, benefits and associates.
A spokesman said authorities were making "arrests, freezing assets, evicting from homes, seizing cars or stopping benefits" and the operation was likely to be rolled out across Greater Manchester in future months.
It was launched around the time of the murder of Mr Short at the Cotton Tree Inn in Droylsden by Cregan, Luke Livesey and Damian Gorman.
His death came after a decade-long feud between local criminal families and was followed by Cregan, Anthony Wilkinson and Jermaine Ward's killing of Short's father, David.
The operation was scaled up following the murders of the two PCs in Mottram.
Sir Peter said the investigation into all four killings "revealed a far-reaching web of organised criminality and extreme violence which had to be tackled".
"The historic rivalry between criminal factions fighting over reputation and territory and creating alternative systems of justice was the spark that led to the tragic events we saw last year," he said.
"We know there are still criminal networks causing misery to certain communities so Operation Challenger seeks to permanently tackle these groups."
He said 159 gangs remained out there and admitted: "We may never completely defeat this."