Carlos Tevez community service order replaced with fine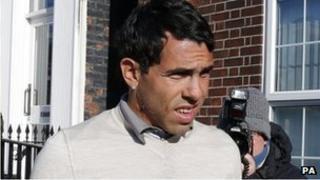 Lawyers for former Manchester City footballer Carlos Tevez have had his community service order rescinded because he has moved to Italy.
Macclesfield Magistrates' Court ruled the player would pay a £3,000 fine instead of fulfilling the order.
The striker still had to complete the majority of his 250 hours' of unpaid work, imposed as punishment for a string of driving offences.
Tevez transferred from City to Juventus last month.
District Judge Bridget Knight accepted there were circumstances beyond Tevez's control in his inability to fulfil the terms of his order, saying: "This is only a technical breach. It is not, I repeat not, a case of a footballer thumbing his nose at a court order."
It is thought Tevez's legal team argued that as the South American was sold by Manchester City, he was not responsible in law for his inability to comply with the order.
His lawyer, Gwyn Lewis, said: "Things have happened which are beyond his control.
"Obviously his move to Italy has taken place and as a result of that the order isn't practical any more.
"It's not a case of some ruse being found. This is a case where he did the appropriate thing, he came with the matter back to court, and had it re-sentenced."
Tevez said: "I would like to thank the court for its understanding. I appreciate their help and assistance in this case."