Shameless star Threlfall will act until 'plug pulled'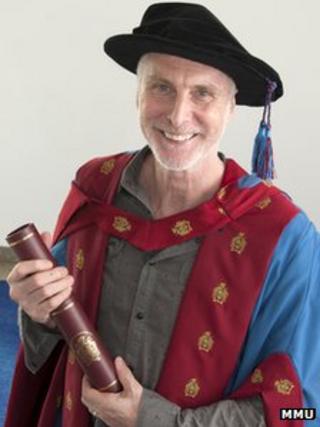 Actor David Threlfall, who played Frank Gallagher in TV hit Shameless, has said he will continue acting until "someone pulls the plug".
The 59-year-old from Manchester spent nine years playing the unemployed alcoholic in the Channel 4 show.
He made the comment while receiving an honorary degree from Manchester Metropolitan University (MMU).
He added that he was "still in training" despite having a career which has included winning an Olivier award.
The actor graduated from the university in the 1970s and said it was a "humbling honour" to return for the accolade.
A MMU spokesman said Threlfall had been "well-known by his lecturers for salvaging items from the dump for stage props".
He added that the 59-year-old had also been known for "his improvisation, such as the time he enhanced his appearance as an old man by sticking Rice Krispies to his face".
'Extraordinary versatility'
MMU's head of acting David Shirley said Threlfall was "the consummate artist who had displayed a deep understanding of acting over many years on TV, stage and big screen".
He added that in playing everything from Shakespeare's Macbeth to Prince Charles to Frank Gallagher, he had shown "extraordinary versatility".
Receiving the doctorate, the Burnage-born star told students that acting was "about challenging yourself".
"There will be dark times and plenty of rejection but how you get through that will shape you as a person and make you the artist you can be.
"Acting is about life - it's about getting to know how other people live, feel and think - and you can practise anytime."
He added that he had always enjoyed the job and that for him, it was a straightforward process.
"I go to work, pretend to be someone else, have fun and go home," he said.