GMP chief constable Peter Fahy given contract extension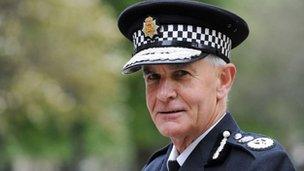 The Chief Constable of Greater Manchester Police (GMP) has been given a three-year extension to his contract.
Sir Peter Fahy, whose current contract was due to end in August, has been head of the force since 2008.
Tony Lloyd, Police and Crime Commissioner (PCC), said Sir Peter had made a "valuable contribution".
Sir Peter said it was a privilege to serve the people of Greater Manchester despite some "very dark days" including the murders of two of his officers.
Dale Cregan was jailed for life in June for four murders including those of PCs Fiona Bone and Nicola Hughes, who were killed in a gun and grenade attack when responding to a bogus report of a domestic burglary in Mottram.
The "motiveless" murder of Indian student Anuj Bidve by Kiaran Stapleton on a Salford street on Boxing Day 2011 was also reported around the world.
Mr Fahy has also been in charge at a time of significant cuts which has seen the force budget reduced by 20% between 2010-15 with the loss of 3,000 posts.
Mr Lloyd said: "When Peter became Chief Constable, GMP had been through a very difficult time and soon afterwards the unprecedented, swingeing budget cuts were announced by central government.
"It's to Peter's credit that he has shown strong and decisive leadership to help steer our police through these challenges."
Sir Peter said: "It is a huge privilege to serve the people of Greater Manchester and to work in such a challenging, dynamic place and it is an honour to lead the great team of people I have in GMP.
"There have been a number of very dark days as chief of GMP but also many achievements as we try to do our best to protect local people and cope with the difficult budget situation".
Related Internet Links
The BBC is not responsible for the content of external sites.