'Conman' David Ryan 'killed and mutilated lover Diana Lee'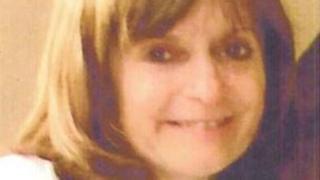 A "conman" murdered his lover and mutilated the body to cover his tracks after cheating her out of £60,000, a jury heard.
David Ryan, of Byrom Street, Altrincham, denies bludgeoning Diana Lee, 54, who owned a luxury cattery, to death at her home in East Cheshire.
Mr Ryan did not tell Ms Lee he was married and tricked her into giving him cash to pay his debts, the trial heard.
Chester Crown Court heard he asked her to invest in a "bogus business".
Ms Lee's body was found in a wheelbarrow full of wood by firefighters who were called to attend a blaze at her gated detached property in the village of Cranage, near Holmes Chapel, on 9 August 2012.
Brian Cummings QC, prosecuting, said Mr Ryan was "devious" and a "conman" and targeted Ms Lee because of his spiralling debt which had reached £90,000.
The court heard he received "large amounts of cash" from her during their trysts and she gave him about £60,000 which he could not repay.
'Framing the lodger'
The jury has been told Mr Ryan started four fires at the victim's home to destroy all evidence of their connections.
Mr Cummings said: "Other than the fact he had unprotected sex with her, he believed that there would be nothing to link him to her, nor indeed anything to indicate there had been anyone at Parklands (her home) that night other than Diana Lee and her lodger.
"We allege that this is why he mutilated her body and attempted to incinerate it along with all the bedding."
Mr Ryan tried to "frame" Ms Lee's lodger, Andrew Leese.
He dipped Mr Leese's antique German dagger in the victim's blood and also planted her underwear in his room, the jury heard.
Mr Ryan owned a glazing and conservatory firm, but was declared bankrupt in June 2012.
'Secret liaison'
His secret affair with Ms Lee lasted for almost two years, after the pair met in the Cinnamon Club in Bowdon village, near Altrincham in 2010.
During their relationship, she withdrew £70,000 from various accounts.
Mr Cummings told the jury Mr Ryan's "cash purchases and deposits" totalled "more than £60,000", despite the fact he had no income and huge debts.
He admitted having sex with Ms Lee in the back of her Vauxhall Corsa near his home the day before her body was found.
But the prosecution said the pair had sex in Ms Lee's bed that night and Mr Ryan invented the car sex story to distance himself from the murder scene.
Cheshire Police analysed his computer and found Google search terms including "countries that do not have an extradition treaty with the UK".
The defence is due to sum up its case on Thursday.