Thousands take part in Great Manchester Swim at Salford Quays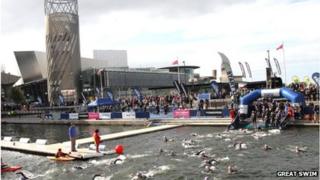 More than 3,000 people have dived into Salford Quays for the Great Manchester swim.
It is the third in a series of five national open water swimming events where entrants raise money for charity.
Owing to the hot weather, the organisers made wetsuits optional after taking advice from medical and water safety experts.
The oldest swimmer was Len Hey, 79, of Rochdale whose wife has dementia and is swimming for the Alzheimer's Society.
Mr Hey met his wife, who needs 24-hour care, when they were aged 12 and both members of a swimming team.
"I have only just taken up swimming again. I do a mile in the morning at Rochdale, which is 64 lengths of a 25m pool, but I am not as fast as I used to be," he said.