Banned 'legal high' Benzo Fury linked to Sale woman's death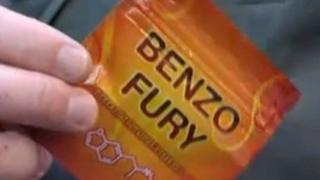 The death of a 27-year-old woman from Greater Manchester is thought to have been related to a banned "legal high", police have said.
The woman, from Sale, died after taking a powder which Greater Manchester Police said was believed to be the recently banned drug Benzo Fury.
Officers had initially believed she had taken ecstasy.
She was taken to Wythenshawe Hospital for treatment in the early hours of Saturday but died a short time later.
A post-mortem examination and toxicology tests are due to take place in an attempt to confirm the cause of death.
Benzo Fury, which is described as a "mild stimulant" that acts like amphetamines and is sold in both powder and tablet form, was given a year-long ban in June.
The independent Advisory Council on the Misuse of Drugs will decide whether to make this situation permanent by next summer.
Det Insp Frank Morris said that while police could not confirm the cause of the woman's death before the post-mortem examination had taken place, officers had "recovered a powder which is a 'legal high' known as Benzo Fury".
He said that reports that this was a "suspected ecstasy overdose appear to misrepresent what may have happened here, although we are in the very early stages of our investigation".
He added that the woman's death showed the "dire consequences" which taking drugs could have.