Rochdale house fire: Two men injured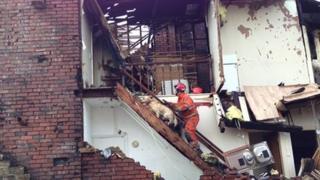 Two men have been treated in hospital after a fire caused the gable end of a house to collapse in Greater Manchester.
The fire, thought to have been caused by an explosion, broke out at an end-of-terrace house in War Office Road, Rochdale, at about 05:10 BST.
The men, aged 38 and 60, who suffered minor injuries, and a woman, 74, were rescued from the house.
A third man unaccounted for has now been located elsewhere.
'Conflicting information'
There had been concerns the man, who was a resident at the property, could still be in the building after it partially collapsed.
A specialist team and dog searched the property because of the extent of the structural damage.
The fire service confirmed he was not in the building.
Wayne Shields from Greater Manchester Fire and Rescue Service said: "There has been some sort of explosion which has caused the fire on the first floor of the property which has spread to the roof space."
He said it was too early to say what caused the explosion but said the fire service was working with National Grid and North West Electricity as well as Greater Manchester Police to assist the investigation into the fire.
He said firefighters were likely to remain at the scene for most of the day.
The 60-year-old man was taken to hospital to be treated for the effects of smoke inhalation while the 38-year-old man has a suspected fractured arm.
A fire service spokesman said one of the men has now been discharged while the other remains in hospital.
Gary Roberts, who lives a few doors away from the house, returned from working a nightshift at 06:30 BST to find the road blocked off.
He said: "I just got told there was an explosion and we are not allowed to go back to our properties until a structural engineer has been in to check it."