'Arsenal' of weapons found in drug raids on Bolton street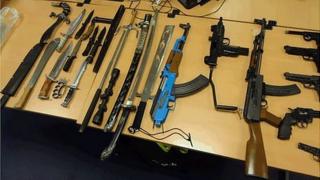 An "arsenal" of rifles, revolvers, pistols, knives, machetes and other weapons has been found by police on drug raids along a street in Bolton.
The weapons were discovered by officers raiding addresses on Louisa Street on Wednesday afternoon.
A stun gun disguised as a torch, a knuckle duster and quantities of money and drugs were also seized by Greater Manchester Police.
Four people were arrested for possession of class A and B drugs.
Insp Wayne Redfearn said the raids were carried out following complaints about drug-dealing from the local community.
"Thanks to the information we received, we were able to execute these warrants and recover an arsenal of weapons."
He added it was important for local people to "stand up against drug dealers and criminals, as their neighbourhood belongs to them, not the criminals who think it is their turf".